To check out our selection of mattresses, click HERE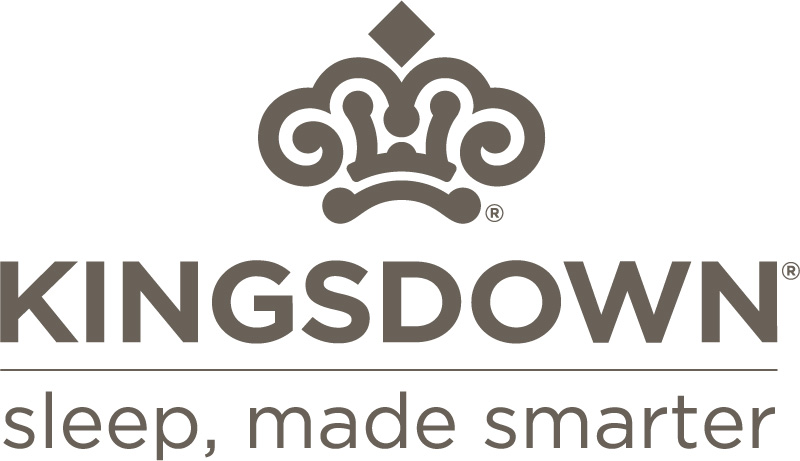 Kingsdown® is committed to providing the latest technology and products that will deliver the best night's sleep possible. Kingsdown products are sold all across North America and in over twenty countries worldwide. Founded in 1904, Kingsdown sleep systems have been making a difference in people's lives for over 100 years.

Kingsdown works very closely with the Sleep To Live Institute. In fact, every handcrafted, innovative bed produced by Kingsdown is individually tested and certified by the Sleep To Live Institute to make sure it provides the correct postural support and pressure relief before leaving their factories. No one else delivers this much attention to detail.

The better you sleep, the better you live. That's why Kingsdown is committed to providing the latest technology and products to deliver the best night's sleep possible.

With our bedMATCH diagnostic system, we can take out the guesswork and find the right Kingsdown bed for you!
Since 1938, we have been supporting dreams by producing the highest quality sleep products. For more than three quarters of a century, we have contributed to more good nights than any other mattress company – and we're thrilled to share our story with you.
1938 - Restonic begins life as the Triple Cushion Corporation. We were founded in 1938 as the Triple Cushion Corporation. Using a patented construction, the three founding members produced mattresses that offered extra support in the center third of the mattress. This was the forerunner to today's Marvelous Middle® construction.
1946 - Restonic gets its name!
1964 - Mel Blanc becomes the voice of Restonic. Mel Blanc who was the voice of Bugs Bunny and famous for his "What's up, doc?" line, records a series of radio ads for Restonic 1964
1965 - Marvelous Middle® becomes an official trademark!
1975 - Steve Allen & Jayne Meadows become Restonic's celebrity spokes-couple.
1987 - Restonic is awarded the Consumers Digest Best Buy™ Award – the first of many…
1991 - Consumers Digest Best Buy™ Award winner.
1994 - Consumers Digest Best Buy™ Award winner.
1999 - Consumers Digest Best Buy™ Award winner.
2003-2004 - Consumers Digest Best Buy™ Award winner.
2005 - Restonic is the first mattress manufacturer to pass the rigid standards required for certification by Underwriters Laboratories for flammability compliance. As long as you see the UL Certification logo, the mark of leaders in fire safety and testing, you can sleep soundly knowing your mattress is safe.
2006 - Consumers Digest Best Buy™ Award winner.
2007-2008 - Restonic products are available nationwide. Restonic Mattress is now found in fine retail stores nationwide thanks to our strong network of manufacturing facilities.
2009 - Restonic's new logo and tagline (Restonic Supporting Dreams) are revealed and, of course, we are once again a Consumers Digest Best Buy™ Award winner.
2011 - Restonic hosts the "Supporting Your Dreams" contest and wins its first Women's Choice Award™.
2012 - Consumer Digest Best Buy™ Winner AND Women's Choice Award®.
2013 - Restonic celebrates 75 years of Good Nights and supporting the dreams of our customers. And we won another Women's Choice Award® too – it was a good year.
2014 - The birth of our Restonic SleepBlog, giving people around the world great advice for all sleep related topics and more.
2014 - Consumer Digest Best Buy™ Winner AND Women's Choice Award®.
2015 - Consumer Digest Best Buy™ Winner AND Women's Choice Award®.
Sierra Sleep is manufactured by Ashley Furniture Industries, the largest furniture manufacturer and #1 retail furniture brand in the world. Making its own place in the sleep industry, Sierra Sleep is the fastest growing mattress brand in the world. First introduced in 2008, more people are sleeping on Sierra Sleep mattresses than ever before! By leveraging our global resources, we are able to build our mattresses, foundations, and pillows with better comfort technologies normally included in mattresses sold at much higher prices. Also, each one of our mattresses must pass over 200 quality control tests before leaving our manufacturing facilities. We recognize the vital role your mattress set plays in your home and are committed to providing you, our customers, with outstanding sleep products, all at an outstanding Ashley value.
A Heritage of Making it Right
In 1893 music didn't stream in over the internet, you didn't need electricity to read books, food was never grabbed out of a machine- but one thing was the same- folks slept on very comfortable beds thanks to Southerland. Our families have made and slept on our beds for over 119 years. It's our dedication to making it right that lets us sleep with a smile, and wake up with a sense of purpose. While the business of high quality sleep changed a lot over all these years - the technology is shinier, the marketing is digital, the mattresses are better - Everything we at Southerland do still starts the same way, by putting you first.
Building strong communities, forging enduring relationships and creating jobs all across the United States have been some of our proudest achievements. Southerland takes to heart the happiness and satisfaction of its employees and its customers- it's the only way we know how to do business. So wherever you decide to rest your head tonight, rest easy knowing Southerland has been making it right for a long, long time, and we're going to do the same thing tomorrow and the next day and the day after that.
Southerland's History
1893 Our story begins in Evansville, IN, a small mattress company opens that will later join the Southerland family.
1924 JD Southerland becomes a mattress man in Nashville, TN, and begins dreaming big for his family and yours.
1929-1965 JD Southerland expands the Southerland family, bringing Tennessee some of the best sleep its ever had.
1966 Herman Southerland joins his Uncle JD and learns the business- put customers first.
1971 JD Southerland's daughter Frances, a schoolteacher, inherits the company from her father.
1973 The company changes its name to Southerland as Herman Southerland becomes president, making his family proud.
1994 Herman Southerland becomes owner of Southerland and begins looking for more good folks to help run his family's pride and joy.
1996 Bryan Smith joins the Southerland family business as the CFO.
2002 Southerland opens a post in Phoenix, AZ, setting the stage for future growth.
2008 Oklahoma City, OK welcomes Southerland's 3rd manufacturing facility enabling the company to readily service customers coast-to-coast.
2010 Stephen Russo, Bryan Smith, and David Corbin take the lead at Southerland, the company becomes a 100% ESOP and the mattresses keep getting more comfortable.
2013 Bryan Smith assumes the role of President and C.E.O., and Barry D. Elkins joins the Southerland team as Chief Financial Officer.